August, 2016
by Bill Bonekemper
At the Deep Foundations Institute (DFI) Helical Piles & Tiebacks Specialty Seminar in Ontario, California August 11-12, there were many great presentations given by industry professionals.  Approximately (85) people attended the seminar including engineers and building officials from Los Angeles and other California municipalities. Presentation topics included:
Deep Foundation Design for Seismic and Lateral Loads

Helical Pile Response Under Lateral Loads

Helical Screw Pile Performance – A Versatile System Alternative

Design Solutions for Helical Screw Pile Foundations for Solar Photovoltaic Plant
. . . and several more very interesting and educational presentations
There was one presentation that absolutely captivated the audience and had everyone's eyes glued to the screen –
All Shook Up!  Preliminary Results of Seismic Tests on Single and Group Helical Piles in Sand – presented by Dr. Amy Cerato, University of Oklahoma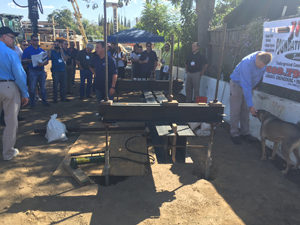 After a brief introduction, Dr. Cerato presented an eleven minute video that focused on the first of its kind seismic load testing of helical piles that was completed in March at the University of California San Diego Shake Table.  The extremely high quality video led viewers through snapshots of some of the devastating destruction caused by earthquakes in California, Japan and New Zealand.  This segment was followed by detailed video and commentary of the preparation and testing of (10) fully instrumented helical piles installed into dense sand in the laminar box.
Amazing Close-Up Video Footage of Helical Piles During Shake Tests
Dr. Cerato and her team installed GoPro cameras inside the top of the laminar box in order to capture the interaction of the piles, the pile caps, the loads and the soil during each test.  The timeless phrase "a picture says a thousand words," may need redefining upward in order to justify the scientific value of what these video sequences reveal.
Click here to see the eleven minute video  
What's Next for the Seismic Study?
Phases IV and V of the study are currently in review by the HPTC to determine the best possible approach to complete the study.  There are (3) primary tests and work efforts remaining that include:
Liquefaction Testing – either full or small scale

Finite Element Analysis

Instrumentation of One or More Full Scale Helical (Screw) Piles for Gathering Data During an Actual Seismic Event
HPTC members are currently exploring several options to complete the remaining tasks and expect to reach a decision by mid October.
Seismic Study Funding Update
Funding to Date
The total amount of cash contribution pledges todate – $154,000

Companies contributing cash – Atlas Tube, CTL/Thompson, Deep Foundations Institute, EXEL Tube, Foundation Supportworks, Foundation Technologies, GoliathTech, Helical Pile Association, Helical Pile World, Hubbell-Chance, IDEAL Group, Lally Pipe, MacLean Power Systems, Magnum Piering, Patriot Foundation Systems, Ram Jack, Techno Metal Post, Torcsill
In-Kind Contributions
Companies that contributed helical piles, caps, weights and specialty structures – Ram Jack, Torcsill, Magnum Piering

Helical pile contractor that contributed material trucking, installation equipment and a (3) man crew for the duration – a $75,000 in-kind contribution – Torcsill

National Science Foundation (NSF) – RAPID Award – click here to learn more about NSF RAPID
Needed Contributions
The current amount of additional funds required to complete the study is $100,000. Any contribution amount will be greatly appreciated, and any organizations interested in contributing should contact:
Bill Bonekemper
DFI – HPTC Member